Episode #4: This is Us, Janna Breslin and Evan DeMarco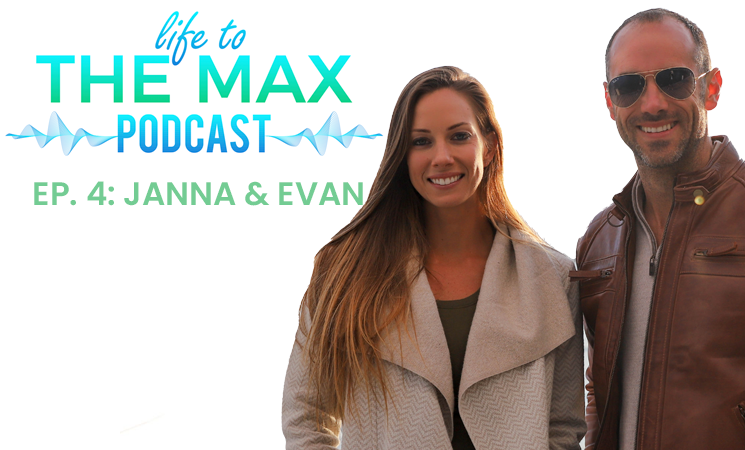 Ask and you shall receive! In this episode you will get to know 'Life to the Max' hosts Janna Breslin and Evan DeMarco as we attempt to answer many of the questions that fans have persistently asked in regards to our background, the cause, who we are and how our separate journeys brought us together to form this show and MaxLifeForever.com. Join us as we give a little peek into our lives and talk about who we are. This is a must for all fans of the show. Enjoy!
Janna Breslin on Social —
IG: https://www.instagram.com/jannabreslin/
Facebook: https://www.facebook.com/jannabreslinfitness/
Evan DeMarco on Social —
IG: https://www.instagram.com/evan_demarco/
Facebook: https://www.facebook.com/evan.demarco.7
Life to the Max Podcast on Social —
https://www.instagram.com/lifetothemaxpodcast/ 
Janna Breslin Quick Bio —
Janna Breslin is a fitness model, health coach, and nutrition expert from San Diego, California. Over the course of her career, Janna has been crowned Bikini Champion on six occasions, along with being on the cover of renowned fitness magazines. A track athlete in her youth, Janna's journey into fitness started in 2008.
This is when she first started training in the gym, along with beginning her career as a fitness and swimsuit model. After sculpting an empowering and inspiring physique, Janna decided to take her career even further by competing. In 2013, she took part in her first bikini competition, which she ultimately won. Janna's success streak continued for several years, during which she took five additional bikini titles – becoming a fitness icon in the process.
Evan DeMarco Quick Bio —
Evan DeMarco is a leading sports medicine and nutrition expert, published author, public speaker and frequent guest on television, radio, and digital platforms. Leveraging his sports background, his entrepreneurial success, and his thirst for knowledge, Evan returned to school to bio- and organic chemistry and went on to develop a vastly improved formula for prenatal supplements delivered in liquid form after finding out he was going to be a father. From there he worked to develop numerous ingredient technologies to improve brain function in infants, children and adults. His patented Alpha & Omega is used in over 25% of the global prenatal vitamins. Like most single parents, Evan has struggled with the demands of his career and the desire to be a present and engaged single parent. His daughter comes first, leading to many sleepless nights trying to finish work while she sleeps.