Episode #13: Born on the Fourth of July with John Wayne Walding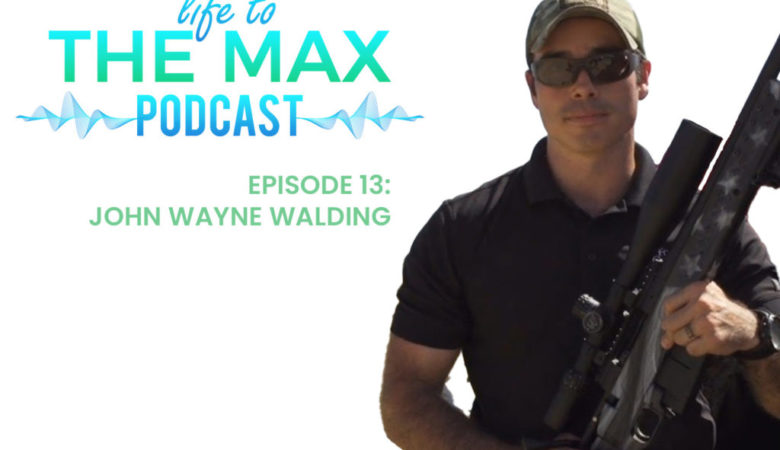 John Wayne was born on the Fourth of July sounds like a fictional hero from a movie or book. Turns out, John Wayne Walding was born on the fourth of July and he is every bit the real-life hero we could only imagine from some incredible work of fiction.
Janna and Evan join John Wayne Walding as he recounts the harrowing tale of The Battle of Shok Valley where he lost his leg to sniper fire.  He discusses his recovery from addicting pain meds and how this hero now devotes his time and resources to help first responders.  The crew even gets to fire off a couple of rounds with him at the shooting range in Texas. This is one episode you do NOT want to miss.
John Wayne Walding Online and Social
The web: JohnWayneWalding.com
The web: GallantryLogistics.com
The web: Livetogive.com
IG: @drinklivetogive
John Wayne Walding Quick Bio
Sergeant First Class, US Army Green Beret & Business Owner
John Wayne Walding was born on the 4th of July. He spent nearly 12 years in the US Army, including seven in the prestigious 3rd Special Forces Group.
John has been deployed to both Iraq and Afghanistan. During the battle of Shok Valley, John lost his right leg to sniper fire. He continued to fight alongside his brothers while wounded for four more hours. (The incredible story of that six-hour fight is detailed in the book "No Way Out: A Story of Valor in the Mountains of Afghanistan" by Mitch Weiss and Kevin Maurer.)
For his bravery in battle, John received the Silver Star Medal, the Bronze Star Medal and a Purple Heart. He was also awarded a Combat Infantry Badge, an Airborne Tab, Air Assault Tab, and Special Forces Tab.
John has never let his injuries slow him down. He attended Special Forces Sniper School and was the first amputee to become a Green Beret sniper. John also competed in the 2009 Boston Marathon; where he finished fourth in the hand crank division, and the 2010 New York Marathon, where he finished in the top 10. He also ran the 2010 Army 10 Miler, the 2016 Dallas Half Marathon, and one of the hardest marathon routes in the world, the Bataan Death March (which also required him to carry a 45-pound rucksack).
Along the way, Sentinels of Freedom (SOF) provided mentoring, networking, and financial assistance to help John reach his goals. SOF also helped John create a business plan for the first company he started, 5 Toes Custom, a Dallas-based company that makes custom firearms. John recently launched a new company, Gallantry Global Logistics.
Today, John and his wife, Amy, live in Texas with their four children. John also travels the country to speak about leadership, excellence, and overcoming adversity. All along the way John sticks to the motto he lives by: "Lean Forward, Fight Hard."
Sentinels of Freedom continues to mentor and work with John.