Episode #11: Adaptive Surfer with Liv Stone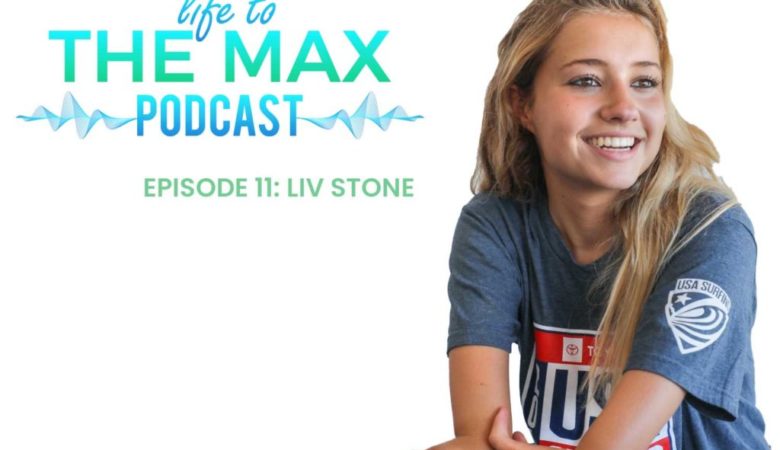 Want to be inspired? Janna and Evan interview adaptive surfing champion Liv Stone. We discuss the challenges and hurdles of being a high school girl with a limb difference (that means she has short arms), and why this amazing teenager moved her family across the country to pursue her passion of surfing. Don't miss this incredibly inspirational episode!
Liv Stone Online and Social
IG: @livv.stone
Facebook: @CAForg
Liv Stone Quick Bio
Liv is a spunky 17-year-old, congenital, bilateral, above the elbow amputee from Pennsylvania. She grew up not knowing anything different with her arms. She was forced to learn to do things differently than other people and has had many challenges along the way, but she has pushed hard to do her best. She has always been an active athlete playing many sports growing up: soccer, basketball, field hockey, cheering, horseback riding, and rifle. In high school, she played competitive soccer for her high school team as well as a local club team where she was the team captain. She also joined the high school varsity rifle team where they provided equipment accommodations to enable her to be successful. She shot 4 perfect matches (100) as well as placing 3rd place in a pairs competition.
The Fall of 2017 was the first time that Liv ever surfed. She attended Bethany Hamilton's Beautifully Flawed Retreat in Del Mar, California. She loved catching waves with Bethany and when she left, Liv didn't know if she would ever surf again. The next summer (2018) she was invited to her first Challenge Athletes Foundation surf clinic in San Diego. She received a week of coaching on how to surf and participated at the Bro-Am Festival at Moonlight Beach. While there, she was partnered with the surfing pro Rob Machado. Liv knew by the end of that week, she had found her true passion and wanted to pursue surfing. However, she wasn't sure how it would happen living so far from the ocean. When Liv returned home, adaptive surfer Alana Nichols helped her find a New Jersey coach, she purchased her own board, and began driving 2 1/2 hours one-way on weekends to get in the water. Liv worked hard training in the gym and ocean over the next several months. She attended the Beautifully Flawed Retreat again and was able to have some special time in the water with Bethany, allowing Liv to connect with her on a deeper level. Bethany encouraged Liv to never stop pursing her dreams. The very next week, Liv flew back out to San Diego to participate in surfing clinics at CAF's annual San Diego Triathlon Challenge (SDTC). While her participation was limited due to a concussion, the trip reinforced her desire to pursue her new-found passion for surfing. Liv knew this could only happen if she lived near the water, so during this trip Liv began planting the seed with her parents to consider a move out to Southern California to allow her to train regularly. In the fall, she was asked by Dani Burt, adaptive surfer, to be a member of the USA Adaptive Surf Team. She competed in December 2018 at the ISA World Championships where they took home team gold! Her stoke for the sport grew immensely, but swimming in the water on the east coast in the winter was not going to happen.
In April 2019, Liv and her mom took a huge leap of faith and moved to San Diego with the plan of staying there for 6 months. Since arriving, she started competing with the WSA. In June, Liv placed 3rd at the USA Nationals, securing her position on Team USA once again. Liv was asked to be on the Stoke For Life Junior Adaptive team where her young teammates represent the future of adaptive surfing. Additionally, Liv participated at the Super Girl Surf Pro in July in the first ever female adaptive heat with the WSL. It was an incredible opportunity for all the ladies. Liv took 1st place at the competition and was beyond stoked! The following week, she was invited to attend the US Open in Huntington Beach where she surfed with the lady pros in their program called Rising Tides. Liv competed at the US Open Adaptive Surfing Championships in September where she placed 3rd in the Women's Para Surf 1 and 3rd in the junior division.
This past fall her family decided to make the San Diego move permanent allowing Liv to purse her dreams. At the start of 2020, she began training hard with her new coach, Danny Nichols, working out regularly with his team. In February, she won her first WSA competition and is in pursuit of winning the championship in May. This past weekend Liv competed with Team USA at the ISA Para Surfing World Championships in La Jolla, CA. She fought hard through her heats and entered the finals as the number two seed. During the finals, Liv scored her two highest waves ever in competition, a 6.83 and 7.17, earning her the individual gold medal in the Women's Para Surf 1 division! Team USA had another great year finishing second overall taking home the silver medal; the stoke was unreal!
Liv wants to continue to pursue her passion for surfing and impacting/inspiring others along her journey. She has the goal of competing at the Paralympics, hopefully in 2028.