Episode #26 SHARK WEEK! Diving with Sharks with Wendy Murray and Shane Taylor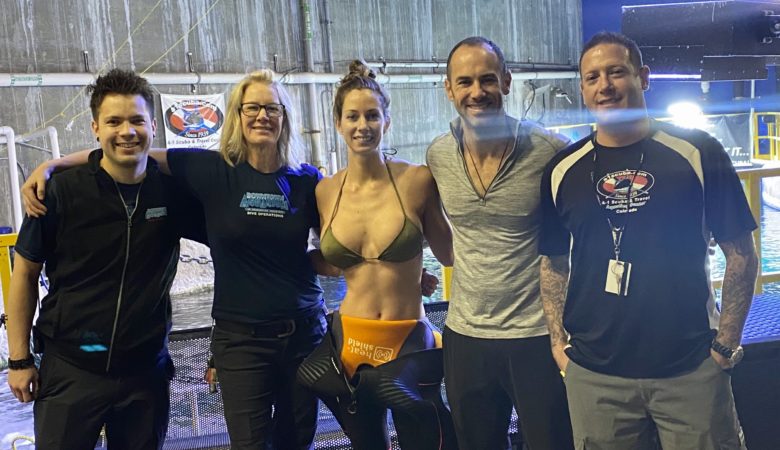 On this week's episode of The Complete Human Podcast, Janna and Evan discuss the misconception of Sharks and cancer with Wendie Murray, and talk about the efforts of Fins Attached and how they hope to stop the practice of "finning" which kills 80-100 million sharks annually with Shane Taylor. But first, Wendie teaches Janna to scuba before Evan and Janna get in the shark tank for an up close and personal encounter with the myriad of beautiful sharks at the Denver Aquarium.
About Fins Attached:
We believe in the preservation of our world's precious resources and that through the protection of the oceans apex predators, marine ecosystem balance can be maintained for the benefit of all living things on earth.
The health of any ecosystem is controlled largely by its apex predators. So, while our work aims to impact the marine ecosystem as a whole, much of our research is focused on the apex predators of the marine environment, which are sharks.
Our organization is comprised of scientists, companies, organizations, and people concerned with the health of the world's oceans. The scientists that represent Fins Attached range in backgrounds from divers to Ph.D marine biologists.
As a result, we direct our efforts in the following categories:
Shark Research
Shark Conservation
Public awareness and education
Advocacy – Affecting international policy to protect our oceans
The team at Complete Human wants to thank Landry's and the Denver Aquarium, A1 Scuba and Fins Attached for their efforts in marine conservation. Janna and Evan have devoted a significant amount of time to telling the stories of numerous organizations in the US who understand the importance of protecting our oceans and beaches. Please follow these organizations and support their ongoing efforts to ensure that our ocean's and our planet thrive for all generations to come. It is our responsibility to undo the damage that we have caused and that begins with education and a commitment to break the habits that have caused that damage.
FREE E-BOOK: The 4 Pillars of Epigenetic Change HERE
Follow Complete Human on Instagram & Facebook
To connect with Janna Breslin click HERE
To connect with Evan DeMarco click HERE
Read more on the Complete Human website
To connect with The Denver Aquarium click HERE
To Connect with A1 Scuba click HERE
To Support Fins Attached click HERE