Dr. Erika Ebbel Angle: Why You Should Prioritize Your Gut Health More & 3 Tips to Improve It Now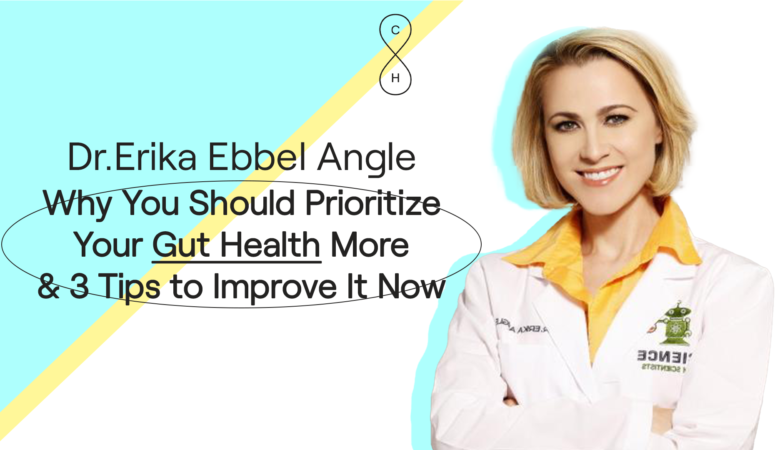 Eating healthy is not enough if you don't properly absorb the nutrients in your food. What's responsible for making sure you extract every food molecule your body needs? It's your gut!
Did you know that poor gut health could be causing your low energy, bloating, IBS, mood swings, anxiety, depression, sleep problems, and stress?
This week's guest Dr. Erika Ebbel Angle talks about the importance of gut health, what the gut microbiome is, and how to be "internally fit." As she talks about her breakthrough with her healthcare biotech company, she also explains why her approach to coming up with solutions for gut problems is different than anything else currently on the market. She breaks down the signs of unhealthy gut and why it's the most important organ that needs more of your attention every day.
She also shares some tips about what you can do to maintain a healthy gut microbiome through diet and lifestyle choices. Plus, she answers some commonly asked questions about gut health, including the dangers of taking antibiotics and probiotics!
Dr. Erika Ebbel Angle is the CEO and co-founder of Ixcela, a biotechnology company aimed at developing tests and interventions to improve gut microbiome efficacy and health. She received her Ph.D. in Biochemistry in 2012 from Boston University School of Medicine and holds a B.S. in chemistry from MIT. She is a member of the MIT visiting committee for the Dean of Undergraduate Education and is an Advisory Board member for the Ron Burton Training Village. She is also a STEM speaker for the U.S. Speaker Program at the U.S. Department of State.
What we discuss:
2:55 – What is a microbiome?
3:40 – Why should you care about the gut microbiome?
4:09 – How do you test your gut health?
11:00 – Why every person's microbiome varies
12:20 – Common misconceptions about gut health
14:47 – Do this to track the progress of your gut health now
16:15 – Testimonies from different types of patients who have been working on their gut health
20:07 – Short- and long-term effects of antibiotics on your gut microbiome
26:00 – How is our body's different microbiomes related?
30:26 – "Pay for your health now or pay for your disease later"
33:08 – Dr. Erika Ebbel Angle talks about her work on her tests for microbiome health
37:40 – How she makes people understand gut science
43:23 – The effects of Apple Cider Vinegar on the gut microbiome
45:05 – Does the microbiome heal food intolerances and allergies?
48:57 – Top 3 things a person can do to heal their gut
Learn more from Dr. Erika Abbel Angle's website: https://ixcela.com/